New Video from inside Piety Street Studios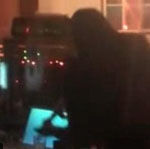 Yesterday, antsmarching.org revealed an exclusive "fly-on-the-wall" clip featuring Boyd laying down recordings for the new album.
The video clocks in at a mere 23 seconds, but just enough to see and hear Boyd overdubbing his parts for the new studio album. They are clearly playing a new song and you can hear Dave singing as well as Carter's and Stefan's parts.
Stefan Lessard twittered on February 11th "Going home tomorrow, sad to be leaving, but my job here is done, time for some BT" ie: Boyd Tinsley.
This video comes as a nice little surprise coming after the news that the albums release date would be pushed from April to June 2nd.
Although take what you will from what you see and hear...just because a song is recorded doesn't mean it will be on the final cut for the album. In the meantime, we patiently await more news!